College athletes struggle with motivation and uncertainty
In March of 2020, the sporting world changed due to a global pandemic. COVID-19 shut down many jobs and all schools. A question of concern for student-athletes is, what does the future hold?
Unfortunately, high school athletes and collegiate athletes who participated in the spring had their season cut short in March. On July 10, the California Community College Athletics Associations CCCAA decided to postpone all Fall 2020 sports at the collegiate level. This decision was expected by many but still came as a shock to all.
College of the Desert offers three male sports and three female sports during the fall. Each team was already practicing while maintaining CDC guidelines, not meeting with coaches and doing their best to social distance, but motivation seems to be lacking.
"We're struggling to stay motivated," said Nellie Carrillo, head coach for both the male and female cross country teams, "but we aren't the only ones experiencing this lack of motivation."
Although cross country is one of few sports where you don't need anything except a pair of running shoes, the athletes say it is still a different feeling of not being surrounded by teammates.
"This is my first year competing at the collegiate level, and by far the weirdest season I have ever had to overcome," said freshman and cross country runner Nicole Renteria, "running on my own and not having anyone to warm up with or stretch with is just different."
Renteria adds, "As an athlete myself in this same sport. I have lost my motivation. It was hard getting up at 5 a.m. to meet the team for 6 a.m. practices, but if I had the chance to go back to that, I would 100% take it. As hard as it was, it is much harder to wake up on my own and push myself to go out there and get in a nice run, at least before I had someone to hold me accountable in my coaches and teammates."
Second-year COD athlete Albert Salomon said, "As far as the cross country team goes, we do our runs, log them and send them in for our grades (since it is still a class), or we can do a home workout and time-lapse the video and submit that instead. Now think, if you were on a team sport, which one would you want to do. I, unfortunately, don't think I'm going to be able to continue with the class. It no longer fits into my schedule with the classes I am taking and my work schedule."
According to the California Community College Athletics Association, the plan is to have Fall sports together practicing on Jan. 18, 2021. Teams are scheduled to start the competition on Feb. 5. There is still much uncertainty about how things will pan out with both indoor and outdoor sports.
Before student-athletes were used to competing in particular weather and now have to adjust for better or worse.
Leave a Comment
About the Contributor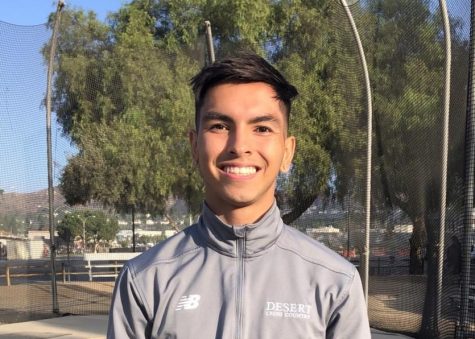 Dominick Jahnig, Staff Reporter
Dominick is a second-year student at College of the Desert to get his associate's degree in journalism. His goal is to continue his education and eventually...