President Biden facing pressure from Democrats to forgive student loans.
Democrats in Congress are coming together on a resolution calling for newly elected President Joe Biden to sign an executive order forgiving $50,000 in student loan debt for millions of Americans.
Senate Majority Leader Chuck Schumer, D-N.Y., and Sen. Elizabeth Warren, D-Mass., are leading the efforts to bring more relief to American families struggling in a country plagued by the coronavirus pandemic.
According to reports, such a move would cost about $800 billion and deliver 36 million Americans out of debt.
"Canceling student loan debt is the single most effective executive action President Biden can take to lift the economic prospects of tens of millions of young Americans," Senator Warren said.
According to a Forbes report, only individuals earning less than $125,000 would be eligible for student loan forgiveness.
Federally backed student loans have been in forbearance since the early stages of the pandemic. Since his election, President Biden has extended the suspension of payments and interest until Oct. 1, 2021.
Proponents of the student loan cancellation efforts believe it would help jump-start a boom in the economy with new businesses, consumer spending, home buying and retirement savings. Critics of the plan believe that it would only bring a very modest move in the economy. Republicans have reportedly opposed the move.
Critics like Christopher Thornberg don't believe that student loan forgiveness would make much of a dent in the economy. He said, "If you can't pay back $10,000 in debt, you ain't making a lot of money," said Thornberg, a founding partner at Beacon Economics, a Los Angeles-based consulting firm. "And if you're not making a lot of money, you're not, what I would call, a macroeconomic driver."
Massachusetts Rep. Ayanna Pressley stated, "This pandemic has made it all but impossible to ignore the fact that we can, and we must take bold action to address the inequities and disparities in our country and provide much-needed relief to our communities."
President Biden has previously expressed that he favors forgiving $10,000 per borrower but has also shown skepticism about doing it through executive action. The White House has communicated that Congress should pass legislation to achieve it as student loans typically fall under Congress's federal spending.
"The President continues to support the canceling of student debt to bring relief to students and families," White House press secretary Jen Psaki tweeted. "Our team is reviewing whether there are any steps he can take through executive action, and he would welcome the opportunity to sign a bill sent to him by Congress."
According to Warren and Schumer's provision, the Higher Education Act of 1965 authorizes the U.S. secretary of education to cancel student loans, meaning Biden could order the move. However, Biden's unilateral action is not likely to happen, if taken into account, billions of dollars would need to be wiped out for almost 40 million Americans.
The Senate resolution puts President Biden in a state of urgency to move quickly on the issue of student loan debt. Despite his hesitation, the president has stated the problem is one of his top priorities.
If President Biden follows through with his campaign promises of forgiving $10,000 in federal student debt, as many as 1.3 million Californians would be able to see their amount of federal college loans wiped out.
California college graduates with average federal loan debt could see upwards to half if not more of their undergraduate student loans were eliminated under the Biden plan. Lower-income students who qualified for the federal Pell grant would see even more of their student debt gone.
On average, college students with Pell grants completing their undergraduate schooling will have $18,000 in federal loans. This is marginally less than the $19,370 in federal loans borrowed by students that did not receive Pell grants, according to recent reports conducted by The Institute for College Access & Success for CalMatters. The report did not include student loan debt that students can accumulate by continuing their education beyond the undergraduate level.
President Biden has also made campaign promises if making public colleges tuition-free for students from families earning less than $125,000.
Miguel Cardona, President Joe Biden's nominee to lead the Department of Education, said he would support student loan forgiveness if confirmed but gave little indication of what student debt relief might look like in practice. In a Monday interview with Connecticut Public Radio, Cardona, who serves as Connecticut's education commissioner, said that despite his background in K-12 schools, tackling student debt would be a "would be a priority for me, it would be an area of focus that early on we'd have to really make sure we're coming up with clear support plans and strategies."
A confirmation hearing for Cardona has not yet been set.
About the Contributor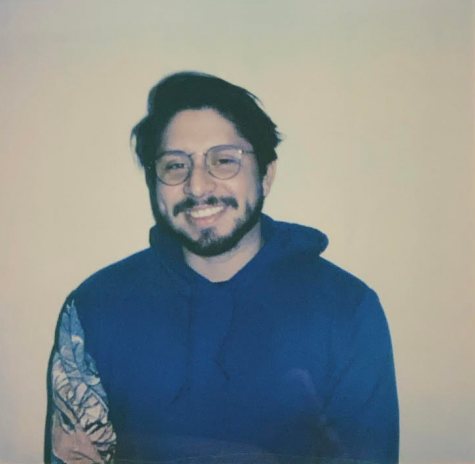 Tony Ramos, Staff Reporter
Tony is a communication major with a passion for media and entertainment. This is his first year at COD and since becoming a Roadrunner has joined The...