Neither heavy rain showers nor September flowers could stop the sold-out crowd of 8,000 fans rushing to fill the Fantasy Springs Resort Casino seats over two days Sept. 1 and 2 for the social media comedy star,
Matt Rife. Rife kicked off the first 11-month run of just over 100 shows in the United States in late July, before making his arrival to the desert where a second show was added after his first show sent the Ticketmaster website crashing during presale, which sold out in a matter of minutes. This left hundreds of fans resorting to resellers or casino promotional giveaways in hopes of landing some extra tickets.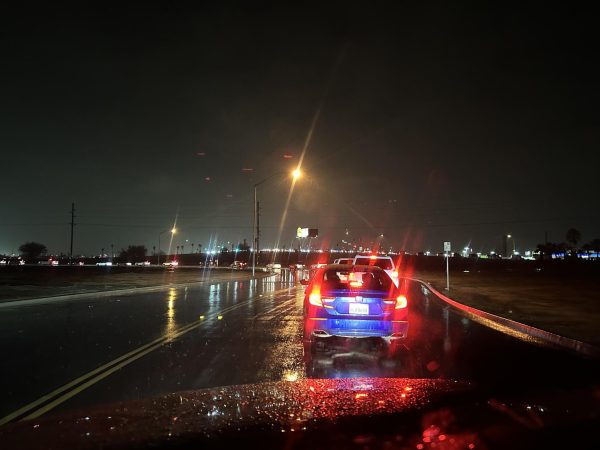 This was just the start of the overwhelming chances of watching the TikTok star on tour, as the streets of Indio closed due to flash flooding that night forcing the show to have a delay. The delay left hundreds of cars backed up outside of the casino parking lot stretching as far as the Golf Center Parkway bridge while the clock was about to hit 8 p.m. the original start time, leaving fans anxious to miss one of the most highly anticipated comedy tours of the year.
Another social media comedian, Martin Amini, opened up for Rife allowing him to warm up the crowd before making his appearance, around 10 p.m., when the crowd welcomed him with cheers before eventually getting roasted during his usual crowd work routines in the middle of his shows.
Story continues below advertisement
Those who attended felt the atmosphere was unbelievable and the fan engagement truly tied the entire show together. One attendee, Isabel Perez, recalled her experience getting tickets and what she thought of the show, "Getting tickets was hectic… I had to stay on the website for over an hour just trying to spam the checkout button to finally grab tickets anywhere I could." Without any spoilers, Perez commented on the show, "I think he's pretty good at what he does, but you definitely need an open mind when going to his show because you don't know what to expect will come out of his mouth."
This show left the audience rushing straight to the merchandise table to purchase their tour gear along with their Matt Rife pillows so they could "sleep with him at night" as Rife jokingly concludes.
Before his recent success as a comedian, he was cast as a small feature on the hit MTV series "Wild 'N Out" and an episode of "Brooklyn Nine-Nine" before making his own comedy specials, Only Fans(15 million views) and Walking Red Flag(7 million views), that can be streamed on YouTube. The overnight success story took off after he posted some of his famous crowd work videos, which is where he interacts with the fans before insulting them for laughs which went viral on TikTok(16.7 million followers) and eventually led him to film a third comic special this fall during his world tour ProbleMATTic. 
The ProbleMATTic world tour is going to make a run for over 100 shows in the United States and Canada before taking the sold-out tour overseas to cities in Europe and Australia by the end of October of 2024 next year. It may be possible that he adds a few more shows to the tour as he did with Indio's finest, but it isn't guaranteed, since he will be returning to Southern California hosting shows in Long Beach, San Diego, and Riverside at the end of September. If interested in attending, continue to check out the MattRifeOfficial website for more information about added shows along the way.