A local stylist living her dream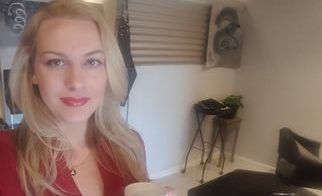 Hidden between a body shop and a barbecue restaurant, in the industrial district of Cathedral City, lies Shear Insanity Salon. The salon has a personality as big as owner Allison Zarrabi. A clock made entirely out of scissors decorates one wall, while her son's artwork lines another. The salon is a testament to both passionately following her dreams and years of hard work.
Zarrabi had no clue that she would one day own a hair salon. She had no idea what she wanted to do with her life. But the seed for becoming a hairstylist had been planted as a child. Growing up, she loved experimenting with different hairstyles. A close friend from church saw this and taught Zarrabi a few tricks here and there.
Fresh out of high school, Zarrabi could have gone a thousand different directions. But none of them appealed to her; she's too outgoing and energetic for a desk job. Her sister gave her the needed push to attend their local beauty college. There, Zarrabi found the spark that lit the fire of her future."I started at 18A and fell in love with it," she said while deftly curling a client's hair.
Freshly dyed blonde hair surrounded a beaming client's face. Zarrabi herself wears an answering grin. Even without talking to her, her passion is visible. Of course, the road to owning her salon has not been easy. "I used to work in salons with multiple stylists. But everyone was so catty!" She laughs at the memories now. It was a competition back then to prove your worth. "So I wanted to escape from that and start my own business."
Zarrabi began Shear Insanity Salon at the age of 24. The small salon was a departure from what she was used to, but worth it. "My strongest influence is maintaining a close relationship with my clients. I get to be a therapist while painting hair." It is an important part of her business to get to know the people that sit in her chair. Making them feel beautiful by adding highlights or a simple trim is truly what matters to her. "I get to be a therapist while painting hair," she added.
After two years in her small location, she was able to relocate to Cathedral City. The bigger space allowed for more room to grow and experiment with the latest technology in hair care. When asked if Zarrabi would expand further, she said no. "If I did move, I'd have to hire an assistant. They spend quality time with clients, not me." Beyond that, staying off the beaten path allows her to keep her rates fair, which in turn creates loyal customers. She hasn't raised her prices in four years.
Her biggest piece of advice to anyone wanting to follow their passions—be it hairstyling or underwater basket weaving—is to "know your worth, trust yourself." A hard lesson to be learned, but one that has proved invaluable.
Leave a Comment