Latinos coming of age 'Real Women Have Curves'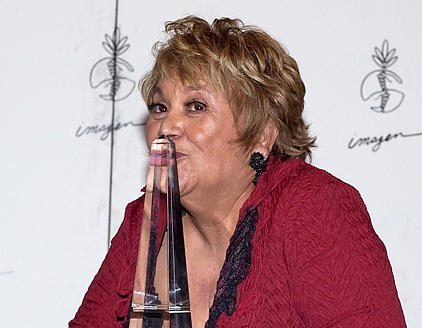 "Real Women Have Curves" directed by UCLA film grad, Patricia Cardosa, is a coming of age story.  But this isn't your typical Hollywood male teen drama, recounting a protagonist's transition from youth to manhood. It's a fresh, culturally significant perspective on what it's like to be a first-generation female Latino trying to break loose from cultural traditions and follow her dreams of going to college.
We first meet up with Ana Garcia (America Ferrera) getting ready for her last day of high school. She lives in a modest, working-class community.  Life is hard, but it's made bearable because of close-knit family ties. The first scene introduces us to the ongoing conflict between her mother, Carmen Garcia (Lupe Ontiveros) and Ana.
Carmen's life is a bitter disappointment.  She gave up on her dreams to make a better life for her children in America. She's bitter and uses her obsession with getting her daughters married, as a way to deflect her personal pain.  She takes her anger and disappointment out on her daughter Ana who like her, has dreams of being more than a dutiful wife and mother. We see throughout the movie, that Carmen's pain for her lost life is greater than her love for her daughter, and in the end, there is an exacting price to pay.
Ana boards a bus and two transfers later get off to attend her last day at a Beverly Hills high school. The other kids in her class are unaware that she comes from the poor side of Los Angles.  They talk about their summer plans for European travel and what colleges they plan on attending in the fall. Ana lies about her summer plans so she can fit into the conversation. Ana doesn't look like the Beverly Hills kids. Besides her color, she is plump and dowdy, dressing in loose-fitting clothes to hide her body.
Her English teacher, Mr. Guzman (George Lopez), sees how smart she is and urges her to apply for college because "she's smart and has something to contribute to the world." Ana firmly rejects his encouragement because she can't afford it. She must work and contribute to the family's finances. Persistent, Mr. Guzman goes to the Garcia family home to say he has connections with Columbia University and tries to convince the family that if Ana applies, there's a good chance that she can attend with a full scholarship. The family firmly says no.
She begins her job at her sister, Estela's (Ingrid Olice) sewing factory. There are only two words to describe it…sweat factory. Estela, the manager, and her ladies sew gowns for the owner. Estela is paid $18.00 for each dress that is sewn, knowing they will sell for $600.00 at Bloomingdales. She's paid at month-end only if she meets her demanding quota. Estela, like her mother, lives a life of quiet desperation. She needs to earn a living and contribute to the family finances. Marriage has eluded her, much to Carmen's disappointment.
It's here in the factory, with deplorable working conditions, that Ana leaves her teen innocence behind and finds her adult voice. She quietly makes her application to Columbia University and writes the essay she hopes will be her ticket to freedom.
In one of the best scenes of the movie, Ana tired of  the lack of air conditioning takes off her top, then her bottoms.  It's an act of liberation and soon, the other women, laughing, strip down to showing off their cellulite and scars. In a scene reminiscent of a Dove commercial, the audience sees these women who are all so beautiful in their glorious shapes and sizes.
It's here in the factory, that Ana makes peace with her body and grows to love not only who she is, but what she looks like. The very last scene where Ana walks the way her mother Carmen, showed her earlier in the movie, is the final confirmation that she owns all of who she is and looks forward to moving closer to fulfilling her dreams as a scholarship student at Columbia University in New York City.
Here's to all the Mr. Guzman's of the world.  Keeping encouraging us. Keep telling us we are more than we think we are. And for heaven's sake, if there is any doubt, please watch 'Real Women Have Curves'…and then go for it!
You can catch this flic on Amazon Prime, Hulu, HBO and Showtime.
Leave a Comment