Why 'Parasite' won big at the Oscars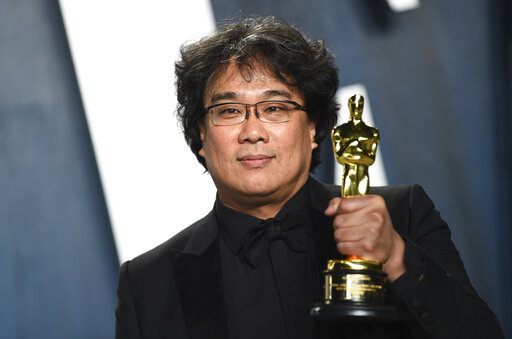 Who would ever think that a South Korean foreign film with subtitles of all things, could take the United States by storm?
Bong Joon-ho, the director of the newly minted Best Picture Oscar, "Parasite," began to believe anything was possible after winning the prestigious Palm D'or at Cannes in May 2019.
With the international press jumping on the 'help-this-film-win' bandwagon, "Parasite" started gaining adoring accolades for what many considered the best film of the year.
The movie went on to win at the Golden Globes, the British Academy of Film and Television Awards and the Screen Actors Guild Awards. It also won second place for audience favorite, behind "Jojo Rabbit", at the Toronto International Film Fest.
How did this modest $11.4 million film go on to win its historic four Oscars for Best Picture, Best Director, Best Original Screenplay and Best International Feature Film?
Many say "Parasite's" success is a perfect storm of unlikely events coalescing at just the right time in history.
Take the changes to the Academy's voting structure and its history of being a white men's domain. After the protests of 2015 and 2016 with #OscarSoWhite and #MeToo, the Academy was forced to make changes.
Minority membership was an embarrassing 8 percent, or 680 members, out of an eligible 8500. 
The Academy made two significant changes that worked in "Parasites" favor. Firstly, they increased minority (people of color) membership to 16 percent or 1,360 members and they created a new membership category for foreign film membership.
In 2019, 842 foreign film industry professionals from 59 countries became academy members.
The new additions to the voting structure, plus the "guilt-factor" that many felt from a season of mostly, male-dominated movies and then nominations, were instrumental in "Parasites" win. Actors got behind "Parasite," while the technical crafts and producers lined up behind a late entry, "1917."
"Parasite" was an ensemble cast with as many male actors as females. The voting academy liked that.
It was the best film of the year and many in the academy who were tired of the manipulative politics and hefty marketing Oscar budgets voted for "Parasite". It was elegant…and a silent way of righting a long-standing wrong.
The third factor that helped with the win, was Bong's immense popularity within the academy membership.
Recognized as a brilliant auteur on the same level as a Martin Scorsese, Bong's hard work, playful personality and his consistent messaging about the magic of foreign films beyond "one-inch subtitles" drew in both audiences and academy members. Bong moved his family to Los Angles to work the awards season.
His work ethic is legendary and he put no less effort into selling his film. He won fans and votes wherever he went.
'Bong Hives' also contributed to "Parasites" success.
These legions of adoring fans gave themselves a brandable name, designed t-shirts and hosted special screenings. The academy, in the end, paid heed to the groundswell of this popular grassroots support. The Bong Hives are credited with helping sway the undecided in the voting academy.
Lastly, some critics say, "Parasite" was a win for any film but a Netflix film. There is a growing anti-Netflix feeling that a 'streamer' has no business in the movie industry. One critic sniped that Martin Scorsese "should be happy he could indulge in a three and half hour film about movies he's already made before."
Ouch! A lot has been written about how the win will temporarily slow down Netflix dominance in the marketplace.
Parasite continues to ride the growing swell of success with its post-Oscar activities. There is talk about a limited six-part TV series coming to the HBO. Bong describes it as, "a set of stories that happens in between the sequences of the film."
In April 2020, a 304-page graphic novel that includes "Parasites" storyboards will be released.
Grand Central Publishing senior editor Wes Miller said, "It's an all-new way to experience the vertiginous delights and surprises of this deeply affecting, genre-defying story."
"Parasite" has even moved the South Korean government to unheard-of action.
It recently announced funding for 1,500 families living in semi-basement apartments. They will receive grants to install heating and air conditioning systems, replace floors and windows and provide ventilators and alarms.
The film has even had downstream benefits. Many subtitles and dubbing companies are reporting dramatically increased sales since its Oscar win.
Next up: Bong wants to make an English-speaking American movie about what else….a social commentary on the state of society. We can hardly wait.