It was an evening filled with cheer and celebration as artists gathered together for the opening reception of the RAIZ II art exhibit at College of the Desert. ThinkSpace projects, Tlaloc studios, and The Perez Bros brought 58 artists and a solo exhibition from Carlos Ramirez to the Walter N Marks Center for the Arts. This is the second Raiz exhibition held by ThinkSpace and Tlaoc Studios. RAIZ II combines a diverse group of Los Angeles-based contemporary artists and a solo exhibit by former Date Farmers artist Carlos Ramirez. Each artist fully encapsulated the meaning of RAIZ through their artwork.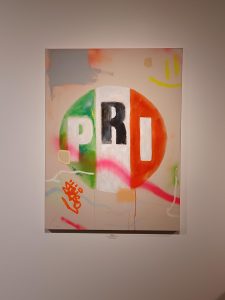 One of these contemporary artists is Bryan Valdez an LA-based Latino-American artist whose painting and art style seeks to recreate the streets of Mexico City. Bryan's artwork "PRI" is a social commentary on American consumerism and advertisement's influence on Mexican propaganda and worldwide. "As a kid, I would see all these political parties and murals all over the city," said Bryan, "I always thought it was sort of an antiquated way, you know, of pulling in the general public into getting votes," he added. Bryan also mentions that there was a deeper meaning to his work. The pink flares are a reference to the femicide happening within Mexico City. Femicide is hate crime and is described as "the intentional killing of women and girls because they are female." In 2022, 968 murders were classified as femicides in Mexico.
Story continues below advertisement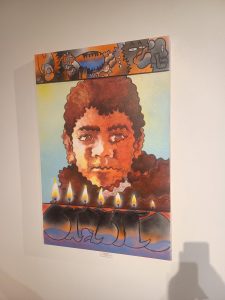 Artist Eduardo Soto and his self-portrait "Gansito" is an attention-grabbing piece that takes inspiration from one of Mexico's most culturally important artist movements. Soto is a south-central LA-based Latino artist whose art draws from experiences they had as a child. "Half of my childhood was spent driving through the desert," they said. Soto would travel from San Dimas to Mexicali, where his family lives "almost every weekend." Their art emphasizes what they found interesting in the desert and their experience at the border. Gansito's were also a part of Soto's childhood. The Mexican snack cake was the "household snack," according to him. Soto's interest in typography, Aztec art, and the Mexican muralist movement culminates in "Gansito." "I want to reference the past, but I want to reference my everyday life," said Eduardo, "I want to find where the overlaps are."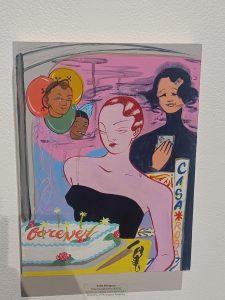 Sofia Enriquez and her "Feliz Cumpleaños" boldly demonstrate toxicity within family dynamics and the exploration of one's happiness. Enriquez is a Mexican-American artist based in southern California, and her art explores identity, culture, and femininity. Enriquez stated that she painted this piece while on a birthday trip. "Birthdays are a tradition. They're part of Mexican tradition," she said. However, when Enriquez was experiencing some "weird tension" within her family, "I didn't want to put myself in another social setting where I had to feel like my defenses were up," she explained. Instead of having a traditional birthday party, for her 31st birthday, she took a trip to Hawaii. "I'm just trying to take care of myself," she said, "that's what art is for me." Enriquez's internal struggle with family and tradition is visibly represented in her painting as a dark cloud looming over her and a scorpion ready to strike her with mean comments.
Raiz II is on display at the Walter N Marks Center for art from Sept. 26 through Oct. 27. For more information about the exhibit, visit ThinkSpace projects.