With fall sports for College of the Desert in full effect, some teams are off to a solid start to their season, and other teams are off to a slow start to the season. The College of the Desert Roadrunners currently has a total of 4 sports in season men's and women's soccer, football, women's indoor volleyball, and women's golf.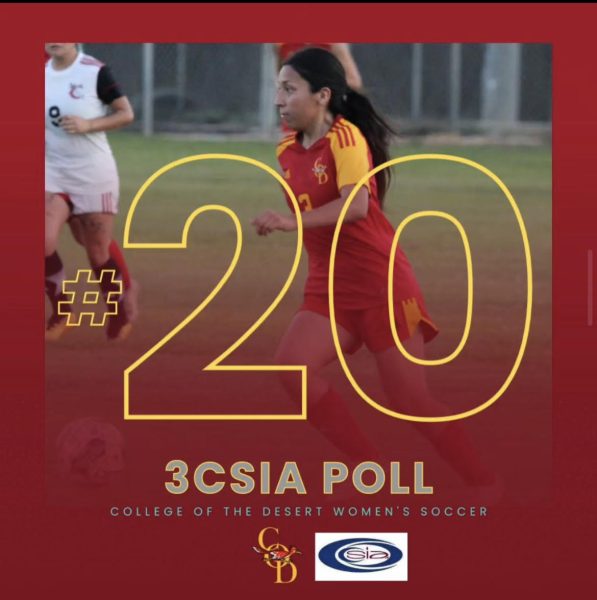 Women's soccer is off to a hot start to their season, starting 7-2 and currently third in conference standing. Along with the impressive start comes being ranked #20th in the 3CSIA (Californa Community College Sports Information) State poll. With 11 games still to be played, we hope the Roadrunners can finish their season as hot as they started the season, along with the hopes of more games to be played in the SoCal Playoffs. Women's soccer is looking to finish off their season as hot as they started to make a playoff push.
As we look at men's soccer, they would start their season off in the right step, going 5-2-3 with a current conference standing of third just behind San Bernardino Valley (6-2-2) and Norco College (6-1-2). Men's Soccer still has 10 games left in the regular season and hopes of playoff games added.
A team that is off to another hot start is our football team. The football team is coming off an impressive last year's bowl appearance with the hope of making it to the bowl game for the second year in a row with hopes of winning it all. The Roadrunners would start their season 3-1. They are currently second in the conference standings behind Chaffey College, which is 4-0. Football still has six more games left in their season and hopes for Playoff games to finish the season.
Story continues below advertisement
Now, looking at a team that had an outstanding performance last year, going undefeated last year in conference with a record of 10-0 and a season record of 15-9 is Indoor Volleyball. At about the halfway mark of their season, Indoor volleyball is not where they want to be right now, starting 4-8. The Desert Roadrunners would be 4th in conference standings, with there still hope to come back into the playoff picture as there are still 13 games to be played in the regular season.
To wrap up fall sports, we end with Women's Golf. Women's golf would have already played in 6 matches this season, taking second in their latest game on Sept. 25 at the OEC match. With eight more matches left in the season, we hope to see more podium finishes for our desert RoadRunners.
We root and wish the best for our Desert Roadrunners for the rest of their fall season, with many outstanding accomplishments to come along the way as teams go out and compete to represent College of the Desert. For more information about our Desert RoadRunners sports, visit the COD athletics website.