College of the Desert Football hosted its 60th homecoming football game against LA Southwest. The game was played on Sept. 30, 2023, at Robert Boone Field. With windy weather, bad air quality and a temperature of 74, the game would be delayed 45 minutes from the original 6 p.m. start time. With a score of 42-50, the Roadrunners had a hard-fought game, almost coming back from a 28-42 deficient to start the 4th quarter. Along with the Homecoming game, the football would have also hosted a meet and greet at the Outdoor Amphitheatre from 11 a.m. to 1 p.m.. on Sept. 29. There would have been free Krispy Kreme Doughnuts, coffee, and outdoor games for all age groups.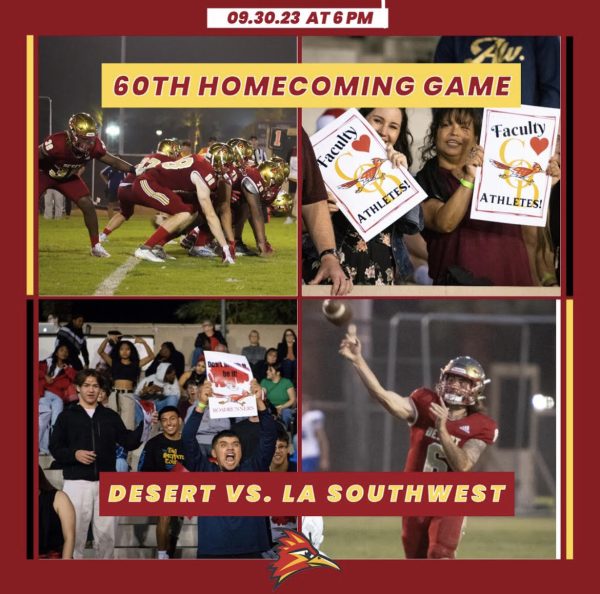 The first quarter would start off slow as there would only be 6 points between both teams, with Southwest taking the early lead, 0-6, over the Roadrunners. After the slow start by both teams, the second quarter would bring more attention and action, with both teams going back and forth in 2nd quarter with a score of 15-26. Southwest would go into halftime with an 11-point lead.
After halftime, the third quarter would bring more action with a much closer battle by both teams. With an end-quarter score of 28-42. The Desert Roadrunners go into the 4th quarter down by 14. With a hard-fought battle trying to claw their way back down by 14, the Roadrunners would fall short of the comeback, scoring 14 points in the 4th and Southwest scoring 8 points to solidify the win for LA SouthWestern College finishing the game with a score of Desert 42- LA Southwest 50.
With 1,778 fans in attendance, it would be an up-and-down roller coaster of emotions throughout the game, with fans on their feet to cheer on their roadrunners in hopes of making a comeback. Fans would leave the stadium knowing that their Desert Roadrunners put all they had out on the field. The game would have an attendance of 1,778 total fans.
Story continues below advertisement