'It's a Beautiful Day in the Neighborhood' is beautiful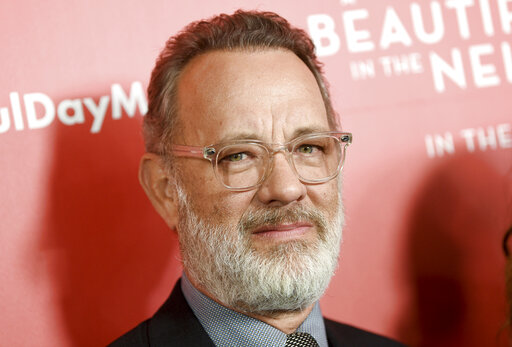 By Gail Pischak
Watching 'It's a Beautiful Day in the Neighborhood' is like watching an adult episode of Mister Rogers gently influencing our aging hearts and minds with heart-warming messages to help us deal with things we still don't know how to deal with in life. 
Part biography, part therapy session, the part formula for living a happy life, this movie is in a word…outstanding. In a season where films are making poignant statements about the disintegration of society today, this one makes a statement about the importance of acceptance and forgiveness. You leave feeling uplifted, hopeful and perhaps just a tad emotional since it's a storyline we can all connect to.
 It's the right movie at exactly the right time…it's a much-needed dose of love and hope.
The movie centers around two main characters: Fred Rogers, the iconic star of the children's program, 'Mister Rogers Neighborhood.' The character is perfectly played by a calm, heart-centered Tom Hanks. The other main character is Lloyd Vogel, played by Matthew Rhys. He is a cynical, emotionally wounded, investigative journalist who is assigned to do a 'fluff piece' about Mister Rogers. He is offended at being assigned such a low brow assignment and arrives on set to interview Mr. Rogers with a chip on his shoulders. What he discovers is beyond belief. How can anyone man be so good, so kind, so decent? It takes the balance of the movie to see that everything about Mister Rogers is true…and life-changing.
The plot reveals the deepening friendship these two men develop as Vogel sees the goodness within Mister Rogers. Over time and with the help of Mister Rogers folksy down to earth style, Vogel recognizes how wounded he is and begins his reconciliation with his estranged father. 
There is plenty of sweet, innocent humor and a beautiful musical score that helps expand the tone and mood of the movie.
The semi-biographical drama is loosely based on the 1998 article, "Can You Say…Hero?" by Esquire investigative journalist, Tom Junod. There is a scene in the movie where Vogel asks Rogers if he is a hero. His response so moves Vogel that for the first time in his life, he believes that goodness and decency still exist in the hardened world he grew up in.
Marielle Heller deserves kudos for the inventive, clever way she re-imagined telling Mister Rogers squeaky clean back story. She incorporates quirky touches like toy cityscapes, which could have been hokey, but instead, helps expand the story of the Mister Rogers mythology. It was charming and believable when it shouldn't have been.
This is her third movie. It had a $40 million budget. Her first two, the teenage drama, 'The Diary of a Teenage Girl,' and the universally acclaimed, 'Can You Ever Forgive Me?' prove that she is not a one-hit-wonder. 
Expect even more creative storytelling in the future.
Mark Nov. 22, 2019, on your calendar. It's the date the movies goes into wide release. It's an Oscar contender in at least three categories: best (supporting) actor, best film, best screenplay. Long shot nominations could include the best director and best musical score.
This movie deserves a 4.5 out of 5 stars. See it because you remember how much you loved Mister Rogers. See it because it's a movie with a positive message. See it because there is no swearing, no violence or sexual content. See it because you love Tom Hanks. Oh heck, just see it….period.
Cast: Tom Hanks, Matthew, Susan Kelechi Watson, Chris Cooper, Wendy Makkena, Enrico Colantoni, Tammy Blanchard, Maryann Plunkett, Carmen Cusack, Maddie Corman, Sakina Jaffrey
Director: Marielle Heller
Written by: Micah Fitzerman, Noah Harpster
Distributed by: Sony Pictures Releasing
Running Time: 107 minutes
Gail Pischak is a second-semester film student who hopes to make short documentaries one day. Her hobby is movies, movies, movies.