Many U.S. combat veterans leave the battlefield with memories, injuries, and challenges when re-entering civilian life. College of the Desert recently collaborated with veteran and Director of Coachella Valley Art Center, Bill Schinsky, Director of COD TRiO Vet-SSS, and Executive Director of the Veterans Art Steven Macks Dilley to bring the work of a few local artists who were combat veterans to Walter N. Marks Center for the Arts. The exhibition, Out of the Fire, displays the artistic ways a few of Coachella Valley's combat veterans remember War.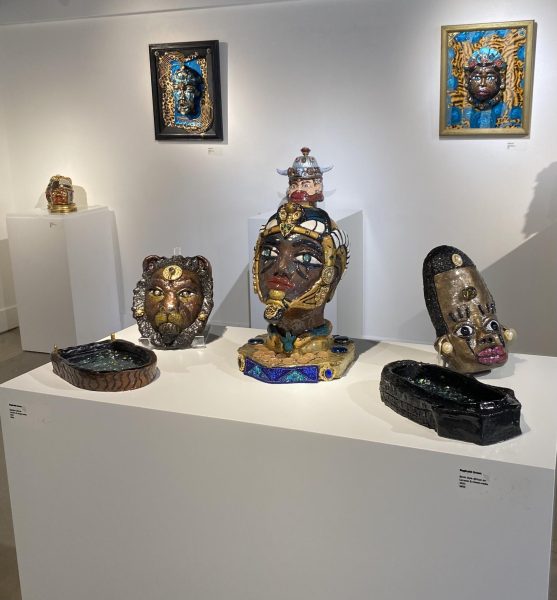 The artists featured in this exhibit all had different intentions for their work U.S. Navy Veteran, and Artist Reginald Green says he uses art "for his mental health, for mental wealth". He began his work during the COVID-19 pandemic to help take his mind off the pain after being 100 percent disabled from the military. Founder and Executive Director of Coachella Valley Art Center, Bill Schinsky who has worked with Vietnam Veteran and Artist Michael Aschenbrenner says Aschenbrenner's leg was seriously injured during combat and he "interprets his memories, feelings, and human bones into glass".  
One artist's intentions are to show viewers who have never been in combat what it was like to be in it. Air Force Veteran Omar Columbus hopes his art helps people to "view the world through camouflage eyes". He takes his work beyond War. He emphasizes how difficult and frustrating reintegrating into civilian life was for him, saying "banging his head on a wall". Columbus dedicated his piece Broken Promises to this process. He says he and other veterans were "promised so much… we were told we would be taken care of… but they leave us hanging".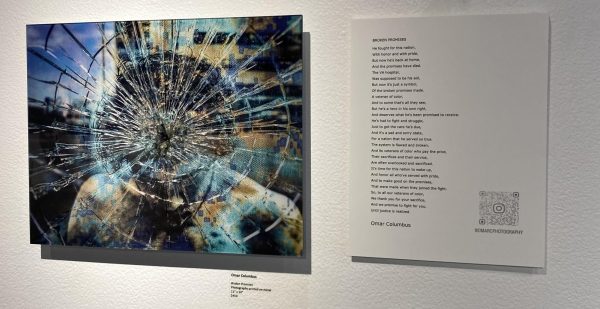 Various mediums are featured in this exhibit. Green began working with bronze but later began using clay in his collection after the studio he utilized closed down due to the pandemic. He says he uses different mediums to further express himself in his pieces. Like Green, Schinsky says Aschenbrenner "branched out" and began incorporating clay because glass was becoming more physically difficult to work with. He also incorporated sticks wrapped in gauze into his pieces to imply injury. Columbus's work brings unique expression through the printing of his photography on various mediums such as canvas and metal, as well as poetry displayed as part of each piece.
Story continues below advertisement
This exhibit moved many who viewed it, from the very beginning stages of its installment to the current exhibition as a whole, in many different ways. Director of COD TRiO SSS-Veterans, Carrie Tate-Meyer says, "Seeing the installation of the pieces was emotional, amazing, and moving." She further states the collaboration that was brought during the installation was something she is happy to see. The very drastic differences in styles were appreciated as well. Faculty of Art, Emily Maddigan says she loves the artists' "use of creative expressions in completely different ways". She says she doesn't have a favorite piece but rather appreciates all of the different art and mediums. For more information on the art, visit the Walter N. Marks Center for the Arts.