Modernism Week presents the newly-renovated 'House of Tomorrow'
Welcome to the House of Tomorrow with a rich history. A virtual tour with descriptions of the house and its renovation process is attached below.
Modernism Week in Palm Springs is an architect's dream of touring mid-century modern structures. Biannual and hugely successful each year, the main event is held in February with an influx of tourists and snowbirds galore. This October's turnout did not disappoint despite the sweltering heat. One of the home tours was the Alexander Family's House of Tomorrow, designed by renowned architect William Krisel. The house was a project for Krisel and an eventual residence for owner Robert Alexander, a fellow designer, and his family. The goal was to design something so futuristic that multiple 'dodecagons' (12-sided figures) essentially stood out as the house's foundation. Try saying dodecagons five times fast!

"You're stepping into a piece of American architectural history," states the publisher of Palm Springs Life Magazine, Frank Jones, who generously toured me around. The House of Tomorrow certainly has a history. Finished in 1960 for the Alexanders, the house peaked at the height of mid-century modern architecture. William Krisel was a founding father of this revolutionary design with his work stretching out all over Southern California — from La Jolla to the San Fernando Valley. Still, it's no doubt that he made Palm Springs known for its mid-century modern appeal. If you've lived in the area for a while, you know the house as Elvis' Honeymoon Hideaway, and although that's correct, the Presleys only leased the house in 1967 after Robert Alexander and his wife tragically died in a plane crash.

Current co-owner Paul Armitstead said, "When we acquired it, we [Armitstead and partner Dan Bridge] always intended to restore it and make it worthy of status." Armitstead, a  Seattle-based architect, started looking at structures to renovate in 2000 and first began with a racquet club. Modernism Week has continuously been an annual must-see event for his partner and himself, and it prompted him to do something special with the House of Tomorrow. Purchasing the house for $2.6 million in 2020 was initially a renovation project for whoever owned the house next, but there was more potential in the house than that. There were construction delays due to the pandemic, but it perfectly aligned with the Modernism Week dates, which made showcasing the house possible. Therefore, realtor Mark Sanders and local contractor Rick Remington got right to work as Armitstead and Bridge were stuck quarantined in Seattle.

Armitstead knew every microscopic detail about this house. He's soft-spoken, but his pride in the estate's finished product was evident. Everything from the Dunn-Edwards paint color used, to the exterior textures, to the galvanized window replacements were all discussed in the short, yet highly informative talk I had with him. When asked about what he's personally most proud of, he says, "The construction team I've had for the past eight years. They've done four projects in the desert, and we know the crew and the team. And I, as an architect, love to get involved myself, and I worked so closely with them."

What's most important to Paul Armitstead and Frank Jones was the reaction of the Alexander family's surviving daughter, Jill. Armitstead elaborates, "[She] came and toured the house about three months ago, and she walked through and was very pleased with what we had done. The spirit in which we did it was to say, if Jill still had the house today and I was Krisel, how would I remodel the house today?" Reportedly, that was the first time Jill had toured her former Palm Springs home since her parents' plane crash in the 1960s. Armitstead concludes our discussion with Jill's recollection of how her mom and dad never closed the doors; everyone was welcome. "That mesmerized me, and so today, that's what's happening. The house is open to everyone."

Take a look at the house for yourself in this virtual tour below. In-depth details of the 4,700-square-foot home are located in the video description when you click on the Vimeo icon, taking you to the site. The following tour dates for Modernism Week are February 16-26, 2022, and tickets are available to purchase here.

HOUSE OF TOMORROW Virtual Tour: The Chaparral Newspaper
Leave a Comment
About the Contributor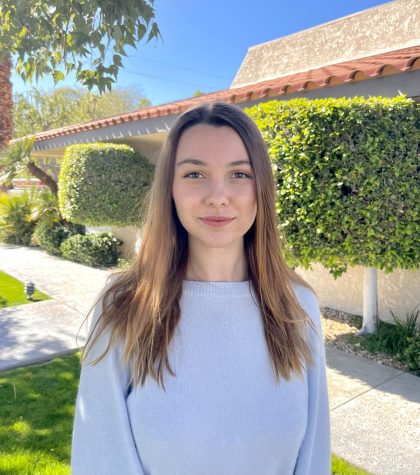 Holly Hinman, Editor-In-Chief
Holly is a second-year student majoring in Film, Television, and Electronic Media (AA-T) at College of the Desert. She has experience in print and broadcast...