Indio hosts Chella 2023 with Danny Lux, Lazuli Bones and community support
The City of Indio, in partnership with Goldenvoice, returned with Chella Celebrando La Comunidad on April 19. This free music festival in downtown Indio hosted some Coachella performers and a few local artists.
The setlist featured local bands, Lazuli Bones, and Koka, who are up-and-coming gems in the scene. Then, the all-stars: Mexican-born indie pop singer Bratty, and regional sierreño trio Conexion Divina, both breaking glass ceilings as Mexican women musicians in their respective genres. The last act on stage was Danny Lux, the 19-year-old artist from Desert Hot Springs who reached commercial success fast, coming from humble beginnings. Local events such as Chella allowed him to perform.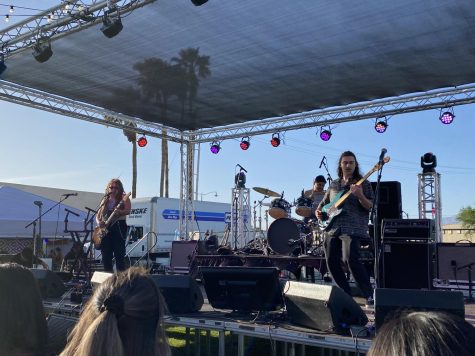 These artists performed on a single stage and entertained locals for free at Indio's "Living Room" off Miles Ave. and Smurr St.
Lazuli Bones took the stage first. The alternative band started the fest strong with punk and surf rock hits. This trio is big in the local scene — catching the eye of Desert Underground founder Angel Chavez. Chavez has created a concert space for local artists from different genres to form a series of in-venue shows and to watch online on his YouTube Channel. Chavez has featured them there and supports their artistry and came to see Lazuli Bones at the event.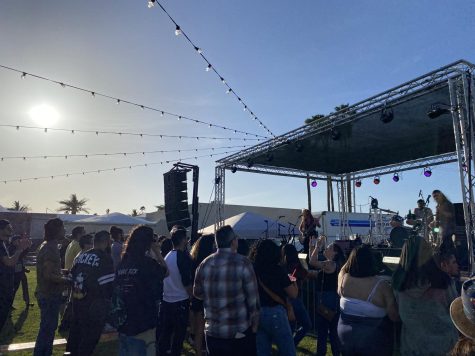 He believes that local resident-centered events like Chella are at the community's core. The bigger event is Coachella Fest, and Chavez has gone to every single one since 2009. While at the last festival, he thought of the ways to keep the music alive, and Coachella did not seem like it was doing enough to feature local artists. His collective, Desert Underground, was the result of that need. He says, "What about the other 11 months? There are still local artists here." Desert Underground was the solution to a more permanent space to host talent, focusing on local artistry.
He is currently in contact with two of the local Chella performers. He talked about hosting Lazuli Bones and Conexion Divina on his podcast and socials. The podcast offered insight into Conexion Divina's formation as the first all-female-led sierreño group. Making it to Coachella was a sign of success for a new group in the genre.
This relationship between local talent and a collective/space like Desert Underground demonstrates the importance of hosting local artistry showcasing that is entirely curated with them in mind while fitting the fabric of actual local residents' interests.
Sunset fades into dark blue at Chella. The turnout increased as performers came and went into the Living Room. Danny Lux is the last and very anticipated act of the night.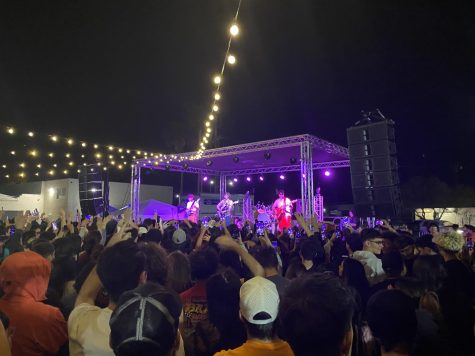 Lux's alt-seirreño songs gained much attention among Gen Z listeners and beyond. Since his start at the Indio Tamale International Festival back in 2019, he has collected many opportunities: signing with major label, Warner Music, and a feature with Rolling Stone. Musical success became palpable when his songwriting and feature on Elsabon Aramado's "Jugaste y Sufrí" became No. 1 on Billboard's Latin Songwriters' Chart in 2021.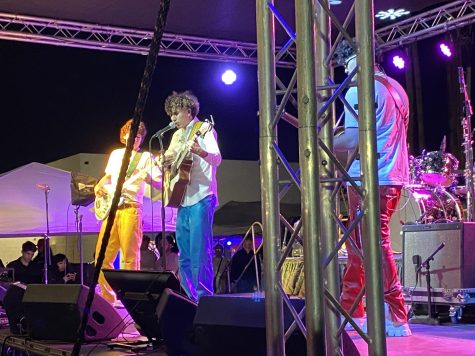 He expressed phrases of gratitude in Spanish towards the community at Chella. The overall atmosphere became a "full circle" of his career so far: he's home with his parents backstage. He is performing with friends for a keen audience that sang, shouted, and cheered him on — many of them his family, friends, and home-grown supporters since his debut.
Lux's Coachella debut on April 14 proved monumental, and his performance at Chella's more humble stage proves his connection to his home and upbringing are still present and strong.
Music teacher and business owner Alice Medina shared her outlook on the power of music as a community-building tool as Danny Lux played in the background. His authenticity and proximity to the Hispanic-speaking listener is evident, but the language does not hinder non-Hispanic folks from enjoying the same songs. Medina says, "When language gets in the way, and we cannot communicate with words, music breaks all barriers and brings us together."
Leave a Comment
About the Contributor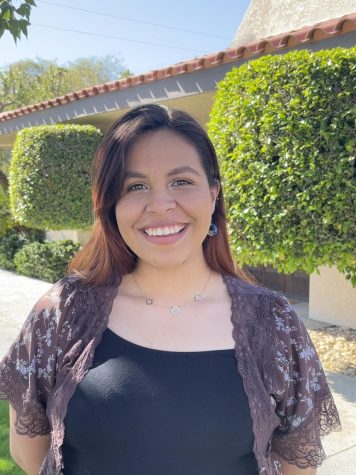 Cindy Chavez, Staff Reporter
Cindy is a first-year student majoring in Journalism (AA-T) at College of the Desert. Currently working towards her Associate's degree, Cindy plans to...