Joe Montana talks football at Eisenhower Health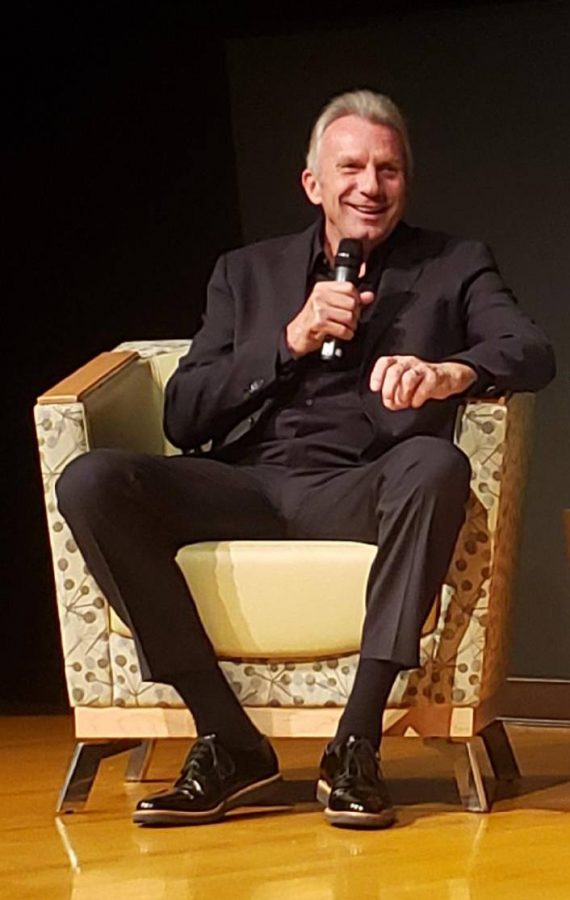 On Feb. 18 at the Helene Galen Auditorium in the Annenberg Health Sciences Building of Eisenhower Medical Center, located in Rancho Mirage, NFL Legend and Hall of Famer, Joseph Clifford Montana Jr AKA Joe Montana, spoke to an audience of several hundred people to talk about his football journey from growing up in Western Pennsylvania to the end of his NFL career as the second speaker for the Legends of Sports Speaker Series. 
Before Montana came on stage, a short video was shown that highlighted Montana's career ranging from 'The Catch' to the retirement of one of the NFL's greatest leaders. When Montana stepped on stage and into the spotlight, the crowd gave Montana a standing ovation for a minute or two.
Montana, who grew up in Monongahela, Pennsylvania, a city west of Pittsburgh, talked about how he was a Steelers fan and watched the Steelers great and Hall of Famer Terry Bradshaw led the Steelers team to four Super Bowls victories with the famous 'Steel Curtain' defense. Montana explained that sports were a priority during his childhood as he played football, baseball and basketball with the other kids on a daily basis.
During his high school years, Montana wanted to play basketball as he was an excellent guard with great athleticism and could dunk effortlessly in various ways. 
However, Montana wanted to attend the University of Notre Dame and football was his way in. 
When he got to Notre Dame, Montana, in his words, "worked his way down to the seventh spot" on the depth chart. At one point, Montana requested to switch to recreational basketball because Notre Dame basketball coaches wanted Montana to play for them, but his football coach, Dan Devine, denied his request as basketball practice took place during football season.
Montana would work his way up the chart before getting his chance to start in his junior year and, with a towering defense, brought a national title. It was during his time with the Notre Dame's Fighting Irish where Montana would earn the nickname, 'The Comeback Kid.'
Montana was drafted 82nd overall in the third round during the 1979 NFL Draft by Bill Walsh and the San Francisco 49ers.
Montana also talked about arguably the most famous throw of his NFL career, 'The Catch.'
'The Catch' was made famous by the late 49ers legend Dwight Clark on Jan. 10, 1982 when the 49ers played the Dallas Cowboys in the NFC Championship game. 'The Catch' helped seal the game and sent the 49ers straight to Super Bowl XVI, where they defeated the Cincinnati Bengals 26-21 to capture the first Super Bowl in 49ers history.
"We've never thrown the ball to Dwight for three years on that play," Montana said that the wide receiver who usually got the ball on the play had fallen down when making a cut. "It took Dwight so long to get back there." Montana joked when recalling how he was moving to his right, as the play was designed, and tried to find an open man to throw too. Montana ended up throwing to Clark and placed the ball low enough for Clark to catch it but high enough to throw it out of bounds.
Montana likes to refer to 'The Catch' as 'The Throw,' "There is no catch without the throw," Montana quipped with a smile as the audience laughed.
Montana also remembers a moment when he was knocked down by a Cowboys defender after he had thrown the pass to Clark that would result in 'The Catch', and the Cowboys defender told Montana that he had beaten America's team. Montana's response was, "Well, that's great. You can sit at home with the rest of America and watch us in the Super Bowl." The auditorium was overwhelmed with laughter for about 30 seconds.
"It really changed the nature of the 49ers and where we went from there," Montana said.
In the 1991 NFC Championship, Montana took a huge hit from New York Giants Defensive End Leonard Marshall and was out for the rest of the game with an elbow injury. That injury would later lead to Montana's heartbreaking exit from the 49ers two years later as the 49ers traded him to the Kansas City Chiefs in favor of starting Steve Young. 
Montana spoke about his frustration with Head Coach George Seifert as he would not let Montana compete for his job after his injury and had asked the Hall of Famer to back up quarterback Steve Young.
"If I could still be playing, shoot, I'd still play," Montana said when talking about if he would still play quarterback today in the NFL if he could, yet also stated that he would not if he could physically. 
Montana retired at age 37 in 1995, playing his final season for the Kansas City Chiefs. 
Near the end of his conference, Montana took questions from the crowd. KCOD Student Station Manager Alexandria Rosales was able to ask Montana, "What is the one thing you took most from coach Bill Walsh?"
Montana answered Rosales with, "Preparation. It was all about you came to work every day. It's not about whether you show up for Sunday, but he wants to see you Monday through Saturday being the same as you are on Sunday and strive for that. He rewarded us with things that warranted other players to come to our team. We were the first ones not to wear pads in training camp or during the week. And his (Walsh) biggest thing was, 'Look, we're gonna work. We're gonna work hard. But if I don't see the mill part of this game and your actions being what they were supposed to be, I'll send you back in and we'll put the pads back on and we'll start all over.' And he did that to us a couple of times."
Montana said that Walsh wanted perfection from his players, but most importantly, he wanted his team to be ready, to be prepared every time they stepped onto the field. Montana would spend more time studying plays off the field than he would practicing on the field because Walsh wanted Montana to be prepared.
Joe Montana is recognized to be one of, if not, the greatest NFL Quarterback to ever play the game. To his teammates, Montana was a true figure of what a leader should be. Montana was fearless, a motivator, a symbol of hope, and embodied what it meant to be a 49er. He earned the moniker 'Joe Cool' because of his 'coolness' when playing under pressure in intense situations.
In his time in the NFL, Montana won 4 Super Bowls (XVI, XIX, XXIII, XXIV), 3 Super Bowl MVP Awards (XVI, XIX, XXIV), was an 8x Pro Bowler, 5x NFL All-Pro, 2x NFL MVP, ranks among NFL's all-time leaders in passing yards (40,551) and touchdown passes (273), and was elected to the Pro Football Hall of Fame in 2000 alongside fellow 49ers alumni Ronnie Lott and Dave Wilcox. 
Montana now resides in the Bay Area of California with his family.