GradFest prepares students for COD's graduation ceremony at Acrisure Arena
Although May 4 is usually a day to celebrate the Star Wars franchise (may the fourth be with you), COD students celebrated themselves and their accomplishments at GradFest! The event took place on campus in the gymnasium to honor the students completing their two years at COD and to prepare and supply them with everything they needed for graduation.
Students could come in from 10 a.m. to 2 p.m. to register for the ceremony and pick up everything they needed, including their graduation tickets, caps, regalia, and gowns. Once you received all of your essentials, the festivities started. Every student who attended could grab a couple of slices of Little Caesars and some salad while thinking over the many things they could do. Students could participate in a cap decorating contest and submit their designs with a chance to win a prize. They were also allowed to take professional graduation photos emailed to them with the option of purchasing.
A raffle continued throughout the celebration, where everything from candy to Coachella Valley Firebirds tickets was handed out! Multiple four-year college representatives at GradFest were each set at a booth willing to answer all your questions. Maybe the coolest part of the day, other than receiving your cap and gown, was Fuego showing up and giving his support. Fuego is the Firebirds mascot for those who aren't aware, and he brought all the energy from Acrisure Arena to GradFest.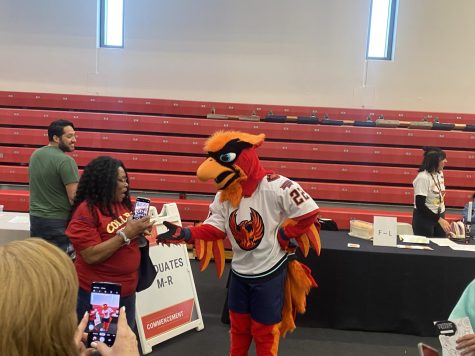 "It is a pretty crazy experience," said one student, "Getting everything you need to graduate kind of makes the whole experience feel really like I'm actually graduating."
Graduation ceremonies will occur on May 24 from 4 p.m. – 7 p.m. at Acrisure Arena in Palm Desert.
Leave a Comment
About the Contributor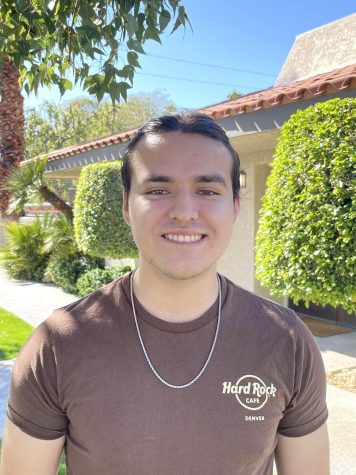 Dean Trombino, Sports Editor
Dean is a second-year student majoring in Journalism (AA-T) at College of the Desert. He has experience in print and broadcast journalism. He interns at...