COVID-19 vaccine getting mixed reaction among valley residents
COVID-19 has affected all walks of life and every economy around the globe. What started as a small outbreak has spread across our world in a short time. The Centers for Disease Control and Prevention (CDC) reports that more than 43 million Americans have already received the vaccine's first dosage. Many Americans are still undecided and outright suspicious of the vaccine. 
Over 8,000 COVID-19 cases have been reported within each of the last seven days in the United States, with a total of 465,000 deaths nationwide. We finally see a breakthrough within this pandemic in the form of a vaccine. 
On the other hand, many Americans have stood to voice their concerns over the vaccine's ingredients and quick development despite Pfizer and Moderna's COVID-19 vaccine Emergency Use Authorization (EUA) fact sheet for recipients and caregivers. Both fact sheets disclose the vaccine's ingredients and thorough answers to frequently asked questions. 
Despite the information provided about the vaccine and its contents, many have taken it into their hands to request and present vaccination exemption forms for themselves and their families.
The National Conference of State Legislatures (NCSL) has documented 45 states that currently grant religious exemptions and 15 conditions requiring philosophical exemptions. While the Covid-19 vaccine is not yet mandatory, President Joe Biden has stated that he would not agree to a federal mandate requiring all Americans to receive a COVID-19 vaccine but would urge people to do the right thing. 
"I don't plan on getting the vaccine for COVID-19, and this is because my body reacts to a lot of things, not only vaccines but many pharmaceuticals," said Raymond Setterstrom, a Coachella Valley resident. 
Setterstrom added, "I know from firsthand experience that some bodies cannot handle vaccines. I know people are scared and panicked and want a fix as fast as possible, but haste makes waste. I distrust the quality of vaccines developed on a typical timeline. So I will not be taking the vaccine." 
On the other hand, Barbara Perry, a supporter of the first COVID-19 vaccine, didn't want to take a chance, waiting for the second vaccine. "I'll get the vaccine every year if necessary, just like many people do every fall and winter for the flu shot, and hope for the best."
"Hospitalizations remain incredibly high. Over 83 thousand Americans are hospitalized right now with COVID-19. Deaths have increased 2.4% to an average of 3,221 deaths per day from January 31 to February 6, " said Dr. Rochelle Walensky, Director of the Centers for Disease Control and Prevention, during a live White House COVID-19 Response Team briefing with Dr. Anthony Fauci and Andy Slavitt.
It is evident that many Americans remain split in their feelings towards the vaccine, but what is important to note is that though the vaccine is a big step forward, it might not be the permanent solution to ending this pandemic if Americans refuse to follow health and safety guidelines set forth by the CDC.
In response to questions about whether Americans can be guaranteed immunity from one dosage of the vaccine, Dr. Fauci said, "Clinical trials of the two approved vaccines also show that it would be ideal to receive your second vaccine dose from Pfizer 21 days after your first, and your second Moderna vaccine 28 days after your first. Prioritizing first doses is the best way forward, but waiting too long between vaccines could lead to new mutations forming."
Americans remain resilient and hopeful that they will be able to reclaim their lives despite the social damages caused by COVID-19 restrictions. As we've learned from Dr.Fauci and many health experts, getting your vaccine doses will not immediately guarantee you a transition back into normalcy but will prove to be a step forward.
View Comments (1)
About the Contributor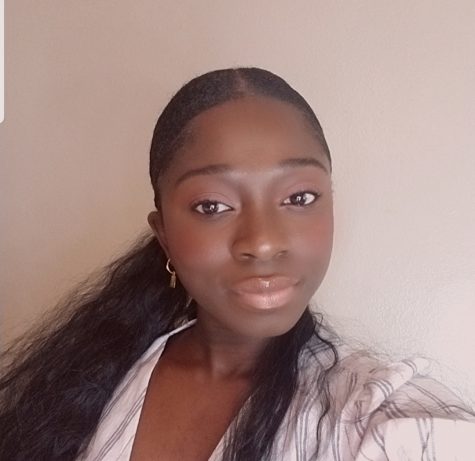 Adjoa Aikins, Staff Reporter
Adjoa is majoring in journalism and communications, and though her passion lies in writing, it also lies in humanitarian efforts. She aspires to become...