Palm Desert's Gameroom Gallery is a state-of-the-art classic gaming showroom
Gameroom Gallery takes its "come home to fun" motto seriously because Michael Lansing and his team works hard for that finished product.
"Computer, play Jazz Fruits Music," says Gameroom Gallery's Michael Lansing to a renovated Seeburg jukebox as he's setting up shop on a Saturday morning. Known by many through local radio commercials and advertisements, Gameroom Gallery has been a desert staple for nearly three decades and first opened its doors in 2004 at a Thousand Palms location before re-locating to the Country Club Marketplace in Palm Desert, Calif., in 2016. As Head of Operations, Lansing takes great pride in his shop and his team of refurbishing experts because it's more than selling pinball machines, foosball and pool tables, and classic jukeboxes — it's a massively successful practice. Gameroom Gallery has clients from all over California and beyond, and this was a major career turn for Lansing, but he shared some insight on how his career propelled his passion in this line of business.
Raised an Iowan farm boy, Lansing was 11 when he was introduced to the magic of arcade games by one of his farm's helpers. "Every Friday, this man would disappear at about 6 o'clock and I never knew where he went," Lansing recalls. "I asked and he said, 'I go into town and play pinball.' He then asked my dad if I could come along with him the next time and, man, did I get hooked. It was something that I'd never been exposed to before." Lansing eventually ventured far away from Iowa, from working with Mel Blanc in recording studios to touring with The Carpenter's doing production work, but opening a place like this had always been in the back of his mind.
Gameroom Gallery's space is wide and clean, lined with pinball machines of several makes and models, usually branded with some pop culture phenomena like Star Trek or The Flintstones. The Flintstones pinball machine, a looker's favorite, underwent a seriously detailed makeover. "We've done so much to take this machine from its original state to the maximum presentation for today's player," Lansing states. "From redoing the sound, taking all the incandescent lighting out and replacing it with LEDs, and originally, the walls [inside] of this pinball machine were all black, but we placed aftermarket Flintstones graphics so it can light up the town of Bedrock." It's a project Lansing and his team always return to, and it's almost done, the subwoofer sound box will soon be inserted and pinball artwork will soon be delivered.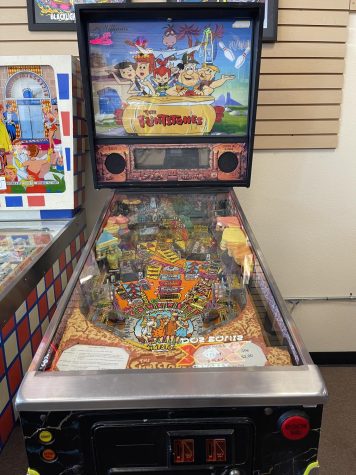 When asked if The Flintstones machine is Lansing's proudest project, his head turned to where an AC/DC pinball machine stands. "[It's] very similar to the one we're halfway finished with. We took it from being a great themed pinball to something to, you know, when you push the button and suddenly AC/DC's most recognizable music comes at you. You feel like you have a concert presence," Lansing emphasizes, "and you don't expect that from a pinball machine." The machine, which is still being touched up, has already been sold to a private residence in Big Bear, Calif., further attesting to Gameroom Gallery's popularity.
Refurbishing and restyling machinery is an everyday job for Lansing and his team, and if you haven't presumed it already, it brings him great pride to talk about the passion behind his craft. Aside from all the handiwork, Gameroom Gallery's crew has also acquired new game sets like shuffleboards and ping pong tables that are soon to be sold. "I have customers coming in from Seattle, Los Angeles, and San Diego, and they come in, look around, and say, 'Wow, I've never seen a place that looks like this.'" With years and years of developing Gameroom Gallery, the niche market for a business like this, along with being the only classic gaming showroom west of the Mississippi River, Lansing adds with a smile, "You often won't."
Leave a Comment
About the Contributor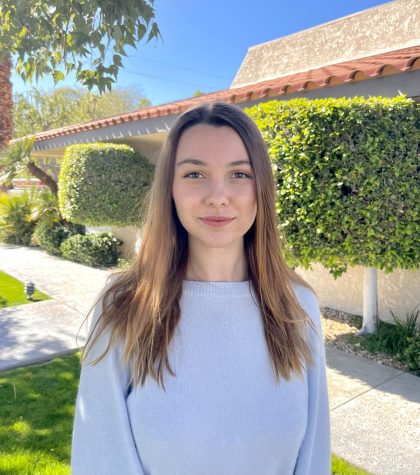 Holly Hinman, Editor-In-Chief
Holly is a second-year student majoring in Film, Television, and Electronic Media (AA-T) at College of the Desert. She has experience in print and broadcast...