COD honors Women's History Month with CODTalks guest speaker Dr. Yuridia Nava
Once a month, College of the Desert hosts CODTalks, where key guest speakers share stories relevant to students' lives. Students gathered to hear Dr. Yuri Nava's journey as an undocumented student facing adversity and discrimination in America's education system. 
Nava began her presentation by expressing how important family is to her, as her entire family dealt with challenges as immigrants, reinforcing a strong family unit. Her grandparents immigrated from Santa Cruz de Tepehuanes, a village in Mexico, to the United States, where her grandfather started working on the railroads through the Bracero Program. Nava, born in Durango, Mexico, and her parents, made their way to the states soon after. "Your family history does not dictate your future," she said, advising students that their options are limitless rather than settling in with generational patterns. 
In elementary school, Nava recalled when she first experienced discrimination and poor treatment as a child. Her nose was in a book, sitting in the corner of the school library when a teacher announced it was time to leave. Young Nava, too invested in her reading, was accused of being defiant when the teacher heard no response. The teacher then shut off the library lights and locked Nava in. She became frightened and tried to exit the room but was unable to since the teacher was blocking the other side of the door. Nava remembers hearing the teacher laugh with other kids outside while she was trapped inside. 
Later, as a freshman in high school, Nava experienced discrimination again. She was a peer leader, finishing a counseling session with a fellow student when the assistant principal accused her of ditching class. His words were, "You're just like the rest of them," implying a stereotype amongst Latino students. Nava shared how furious her mother was about the incident and proceeded to meet with the assistant principal herself. Nava said that despite her mother not speaking fluent English, she demanded justice for her daughter. Seeing her mother speak out inspired Nava to use her voice as a tool for equity and equality. 
Scoring high on a S.T.A.R. test in school, Nava was rewarded with a scholarship. However, she discovered she could not claim it due to her immigration status. Nava's circumstances allowed her to learn the immigration process. She went on to fill out forms and schedule appointments for herself and her parents until finally becoming a U.S. citizen during her first year of college. Nava empowers undocumented students to learn the process to avoid contacting companies that take advantage of the undocumented community.
From an early age, Nava emphasized that her experience as an undocumented person demanded her to grow up fast and do necessary things at a very early age, like opening a bank account, translating for her parents, and filling out legal forms. Needing to do these things helped her to advocate, become socially aware, adapt, and develop life skills. With the fund of knowledge, Nava applies herself from past experiences, "Experience binds and shapes us as humans," she said. 
After counseling for 20 years, Nava is now a coordinator for Riverside County's Office of Education. Nava has received many awards over the years, including an honor at the White House for her work in counseling during the Obama Administration. Her success is a result of servant leadership. "In this life, you can work for a title or a bigger cause, and the accolades will follow," said Nava speaking on being mission-driven.
Nava shares a quote to end her CODTalk, "The flower that blooms in adversity is the rarest and most beautiful of all," encouraging those facing difficulties and obstacles they always have the potential to be great. Nava continues to be an ally and resource to undocumented students knowing what is needed and required as she was once that flower before.
Leave a Comment
About the Contributor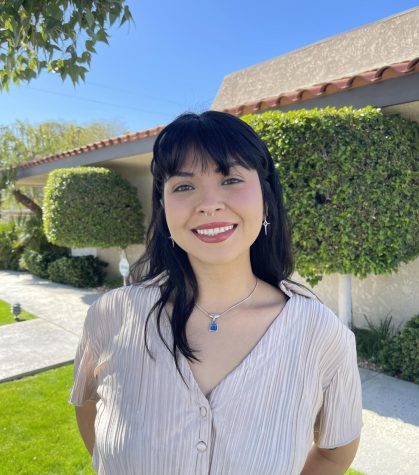 Brianna Jaime, Copy Editor
Brianna is a second-year student majoring in Journalism (AA-T) at College of the Desert. She has a background in psychology with an interest in media and...