Students respond to the alarming rise of gun violence in America
There have been 200+ mass shootings in America since the start of 2023, and we have yet to reach summertime. The Gun Violence Archive regularly updates its latest tragedy every one to two days, sometimes reporting multiple shootings on the same day.
The intense ramifications of gun violence heavily concern Americans, CNN Health reports, by taking a massive toll on our mental health, the heightened inclination to stay home instead of going out, and possible financial complications resulting from serious injuries or casualties.
Many Americans feel our government is not doing enough to prevent gun violence.
The Chaparral invited College of the Desert students to answer that question. The question we asked students on the Palm Desert campus is: Are American politicians doing enough to prevent gun violence? And if so, what more should they do? Their responses indicate that the ramifications of gun violence affect us all differently.
"American politicians are not doing enough to prevent gun violence. They are banning books and LGBTQ+ events rather than firearms. Politicians should pass stricter gun laws… U.S. shootings every day should not be the norm. Thoughts and prayers don't bring kids back. Stricter gun laws and intensive background checks are how politicians can stop this." — Jocelyn Rico.
"It's a complicated issue, but politicians can do more to prevent gun violence. They can create stricter gun laws and regulations to make it harder for people to obtain guns." — Joshua Huerta.
"I'm just so disillusioned by our government's ability to do anything about anything. America's a gerontocracy and I've come to accept that legislation based on common sense won't be passed until we become the old guys [in office]." — Matheus Garone
"I see politics as the elderly picking fights with each other, so I don't choose to follow it. Unfortunately, there will always be gun violence, but not in the ways we think. When discussing gun violence, you must consider the environment and the community. Politicians should do more to keep criminals off the streets where impressionable children live. This is the easiest way for children to get involved with gun violence, leading to more gun violence." — Ary Fernandez.
"Politicians need to say no to guns being used by everyone and their dogs. Perform background checks to prevent the geriatrics from creating another Columbine [High School massacre]." — Eliu Benavides
"In my personal beliefs, I think that politicians are not doing enough to prevent gun violence. Politicians should dedicate some funding to teaching responsible people how to handle weapons to defend others. Like how Jack Wilson defended others during the [2020] church shooting." — Diego Lucio
College of the Desert has responded to this alarming rise of gun violence by hosting ALICE Training workshops last April. "Students learn about the different options to Lockdown, Counter, Swarm, Inform, Alert and/or Evacuate. ALICE Training is a science and research-based program that gives an individual a choice that is right for them in the event of a critical incident," states the College.
We can additionally take action in numerous ways. The Violence Policy Center encourages us to contact our elected representatives, contribute to anti-gun violence organizations we support, join an organization and protest, compose a letter to the editor of our local paper to speak out on the issue, and lastly, choose to inform others.
We have to be the change we want to see.
Leave a Comment
About the Contributor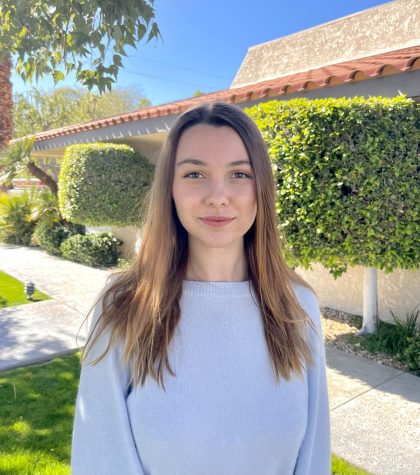 Holly Hinman, Editor-In-Chief
Holly is a second-year student majoring in Film, Television, and Electronic Media (AA-T) at College of the Desert. She has experience in print and broadcast...