COD to hold public meetings to expedite campus in Palm Springs
Schematic Design Project Management Team will include designees from West Valley Cities as liaisons
Over a strenuous decade of planning, designing, and significant setbacks, College of the Desert continues on with its plans of opening a West Valley campus in Palm Springs. The 27-acre site off Farrell Drive, in between E. Tahquitz Canyon Way and S. Baristo Road, will give students and city patrons greater access to what College of the Desert can offer once COD and the Palm Springs Development Project (PSDP) team moves through their meetings, with the final meeting taking place on June 14, which will hopefully be met with a green light for construction to start.
The first public meeting presenting the expedited schematic design plans was held on March 22 in the Donald and Peggy Cravens Student Center at the Palm Desert Campus and was streamed on Zoom through the College website. Each meeting will be available to view through Zoom in real-time and accessible on YouTube in the following weeks.
The current meeting schedule is as follows:
April 19, 2023, 9:30 a.m. – 11:30 a.m.
May 17, 2023, 9:30 a.m. – 11:30 a.m.
June 14, 2023 9:30 a.m. – 11:30 a.m.
These meetings resulted from a finalization that took place on February 16, when the Desert Community College District Board of Trustees approved schematic design plans for the West Valley campus in Palm Springs, directing staff to incorporate several adjustments while proceeding with design and construction and also invite nearby cities to designate a liaison to operate communications with their respective cities until the project is completed around, presumably, Spring 2027.
City designees are Flinn Fagg, city of Palm Springs Deputy City Manager; Rita Lamb, city of Cathedral City Mayor; and Roger Nuñez, city of Desert Hot Springs Mayor ProTem.
The March 22 meeting was met with high hopes and determination for a Palm Springs campus. Director Scott Atkins says, "The plans for a West Valley campus in Palm Springs have had a long history. Our charge is not to dwell in that history or attempt to remake it." The project management team gave the floor to the directors and specialists of the development plan for proper review on what purpose the West Valley campus would serve.
Pam Hunter, Project Specialist and the former Executive Director of Institutional Advancement at College of the Desert speaks more on the West Valley's purpose and its future facilities, "The master plan created by HDA in 2011 stated clearly that the Palm Springs campus is intended to be a living laboratory, providing general and basic skills." By living laboratories, Hunter elaborates that it will house film and television sets, studios for radio production, digital sets for journalism, and culinary art spaces, most notably. Outside partnerships would also be welcomed for those wanting to use the state-of-the-art facilities, so the West Valley campus wouldn't be exclusive to only COD students. "The important takeaway is that the College is building a space to enable education to be delivered differently," Hunter concludes.
After the first meeting, co-chair Robert Rauscher broke down the next few months of debriefing, "Once we complete design development, we move into construction documents, and this is, traditionally, the longest phase of the design process." The schematic design plans will be dwelled on throughout the next four months, with a potential grand opening in four years.
The meeting schedule, agenda, links and presentations for PSDP public meetings will be posted on the college website and the COD bond Palm Springs projects page.
Leave a Comment
About the Contributor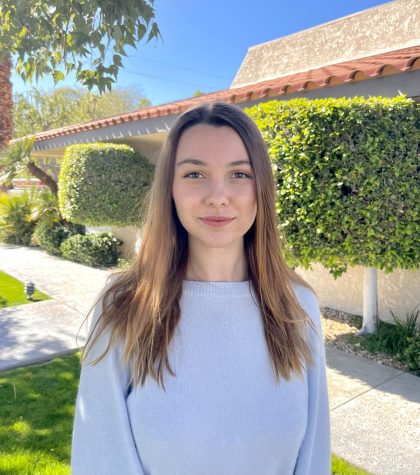 Holly Hinman, Editor-In-Chief
Holly is a second-year student majoring in Film, Television, and Electronic Media (AA-T) at College of the Desert. She has experience in print and broadcast...